Structural Engineering
A state-certified structural engineer is responsible for drawing up the design plans for pool building that determine the stress forces throughout your pool. The structural engineering drawings will determine how much steel rebar is necessary to support the pool.
Pool Building City Permits
Most cities require that you fill out an application along with your structural drawings. The city will review the plans and request any corrections required by the Codes to be made before pool building can proceed. Typically, a swimming pool building permit issued by your city or county is required before starting any work on your pool.
Layout
When the plans have been approved by you or your authorized representative, and all necessary permits have been obtained, the pool construction process may begin. Our representative will go over the pool construction stages with you and help to set the pool elevation. Next, the form boards are set with great care to ensure the inground pools are in the exact location required.
Excavation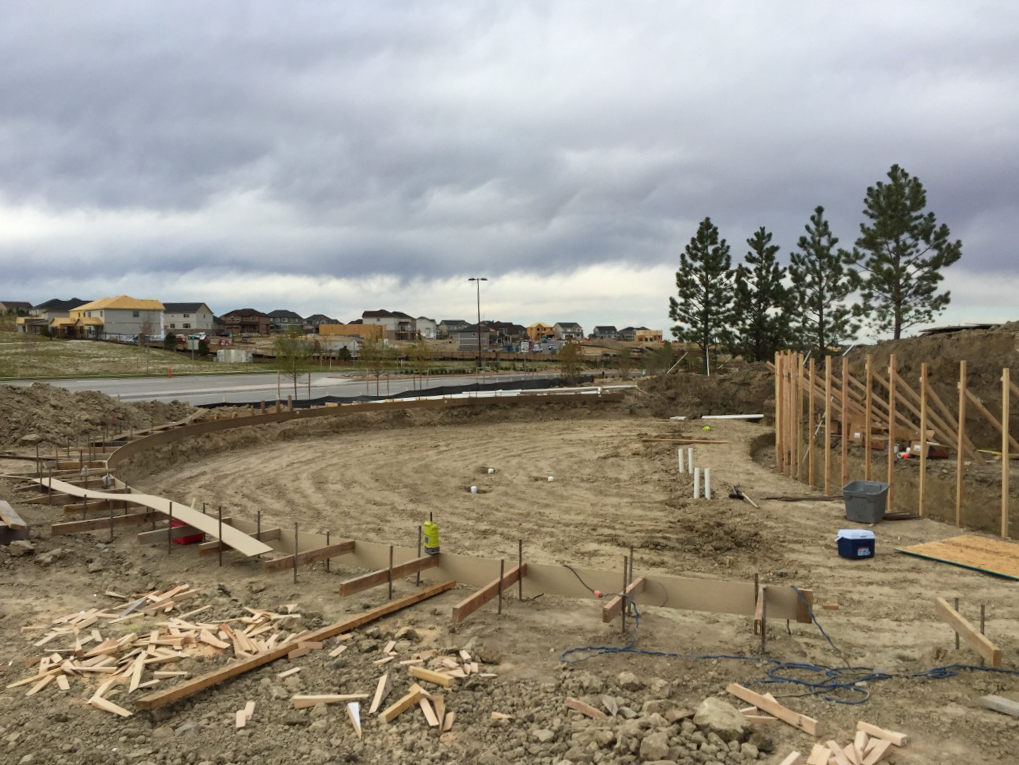 The first step if the pool construction process is excavation. After the forms are set, the excavation of the pool may begin. We use small, skid-steer front-end loaders to precisely trim back the pool walls and to provide added maneuverability within the pool and around the construction site.
Steel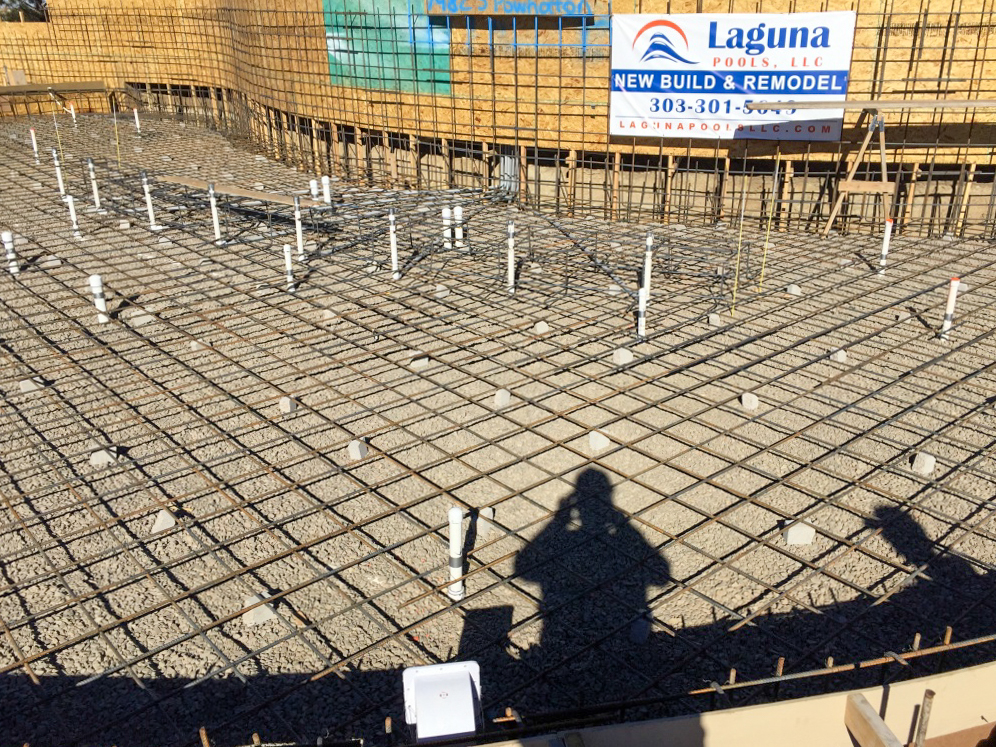 Selecting the correct pool builder is very important. The industry standard for swimming pool construction is 12" on Center. At Laguna pools, Denver's top pool contractor, we believe that is not enough. Therefore, we reinforce our structures by installing out steel 8" on center. That is why as long as our Denver clients own their Laguna inground pools we will warranty its work for its lifetime.
Rough Plumbing
Rough plumbing, or "stub out" is done immediately following steel installation part of the pool building process. This entails the installation of main drains, skimmers, light niches, return line "stubs" and pre-plumbing of raised spas.
Shotcrete
After the plumbing, the next part of swimming pool installation process is the installation of shotcrete. The pool floor consists of concrete with a compressive strength of 4000 psi and is a minimum thickness of eight inches. The walls of the pool consist of a mixture of sand and cement (gunite) that is applied through a hose with highly pressurized air to achieve a compressive strength of 4000 psi.
Tile & Coping
After the completion of the shotcrete phase, you will be asked to choose a decorative tile for the pool during the next part of the pool installation process. We have a selection of over 150 different tiles for you to choose from. No matter what colors, textures, and materials are being used for the project, our pool installation professionals will have something to fit your taste.
Plumbing
The plumbing for each pool is designed specifically to give it the best circulation and filtration for crystal clear water and ease of maintenance. As a top pool contractor in Denver, we perform hydraulic calculations to ensure that all equipment and piping are of the correct size to combine water clarity and energy conservation.
Equipment Setup
An experienced swimming pool installation professional will come to the site and plumb in all of the filtration equipment for the pool, including water feature pumps and other optional equipment from Pentair.
Electrical & Gas
By this point of the swimming pool installation process, electrical conduits for pool lights and pool equipment power should be run. The breaker box at the location of the pool equipment should be installed and ready for the equipment to be set. Gas lines to the pool heater or heaters should also be run to the equipment location. These operations should be handled by a licensed electrician/utility specialist, that as one of Denver's top pool contractors, we would be happy to provide.
Deck Layout & Pour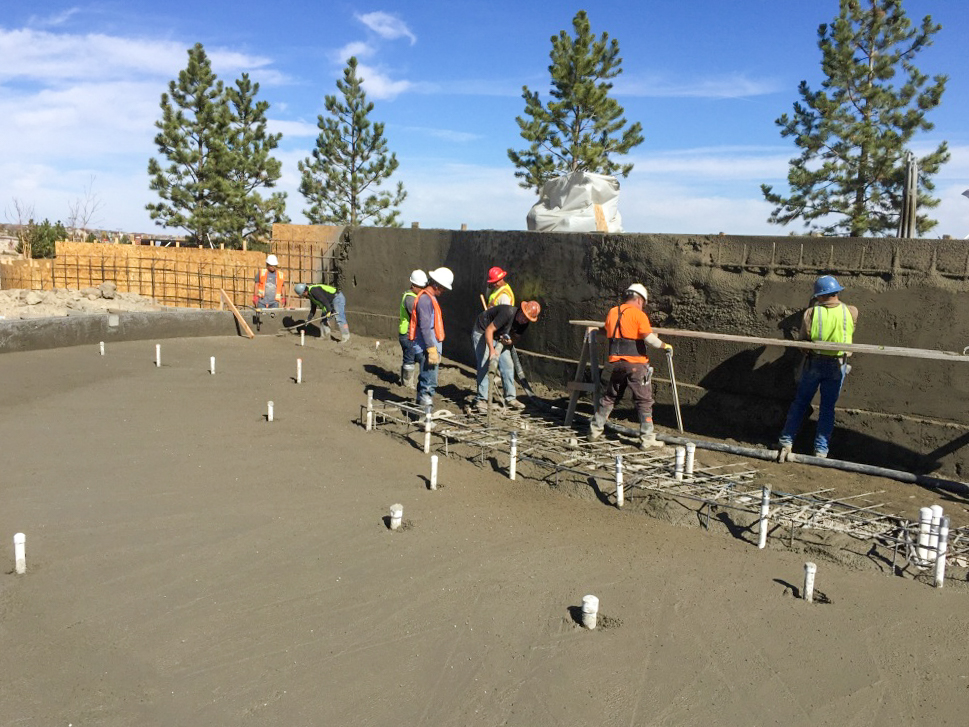 The pool deck should reflect the overall theme of the project, including color, pattern, and type, and it takes a professional pool builder to make it happen. Typically, the deck at the pool edge is shaped using a rounded cantilever foam form for comfort and safety. Pool coping such as brick and stone are also available to complement the other materials used on the job used by pool builders. The deck is a minimum of four inches thick and reinforced with steel rebar approximately 18" on center. In most cases, any stone or brick work should be completed before the decking is poured and the inground pool installation process that continues.
Fence or Screen Enclosure
Contingent on city requirements a perimeter around the pool may be necessary. A qualified pool contractor will need to be contracted to fill these needs. Laguna Pools is one of Denver's premier pool contractors and would be happy to help handle all of your fence or screen enclosure needs.
Pool Finish
Pool finish refers to the decorative interior finish of the pool. The right finish can transform your pool into a visually stunning masterpiece, and the inground pool installation process all begins with quality ingredients from a quality pool builder. You may not know that there only two primary water colors for your swimming pool, blue and green. The shade of blue and green are determined by a variety of factors. The single greatest water color determiner is the background dye in the finish. For blue water look for a finish that is white, blue, black, or gray. For green water look for a finish that is green, brown, or tan. For more information, please visit http://clindustries.com/
Startup
The final part of the swimming pool installation process is the startup. Once full, a service technician will come out to your home to check the installation and start all pool and spa equipment. Once the equipment has been started up and the pool is fully operational, our service manager will set up a time to come to your home and show you maintenance operations. This includes everything you will need to know about routine maintenance on the pool and some troubleshooting tips. If you do have questions or require technical support, our trained pool builders, designers, and installers are only a phone call away.
Ready for an expert opinion? Get in touch today!
Laguna Pools is a professional pool and spa contractor that has been servicing the Denver area for over 20 years. We offer routine cleaning and maintenance services, new pool design, construction, and remodeling.
Contact Us Today
Like this article? Spread the word!